Originally from Van (Armenia), Harold Gulamerian was born to immigrant parents in 1924. Harold joined the army in 1943, and, after the war, went to City College to get a degree in science and business administration and then a law degree. When Norman, Harold's brother, got home from the service, he apprenticed himself to artist Frederick Taubes (1900-1981). He primed his canvases and ground his paint. Norman, an artist himself, was having trouble finding unprimed linen. Harold suggested they import it from Belgium. That was the start of Utrecht Art Supply.
Harold and Norman sold their Belgian linen out of their basement in Brooklyn. The two brothers dedicated themselves to supplying artists with the "highest quality art materials and supplies for the best value." In 1951, they rented an office at 119 West 57th Street. The Gulamerian brothers' artist supply business grew quickly. In 1957, they developed their revolutionary acrylic gesso for priming artist canvas. In 1958, they rented factory space at Bush Terminal in Brooklyn. By the end of the early 1960's, they had expanded the Utrecht line to include professional-grade artist oil paints, acrylics, and watercolor supplies, sold at manufacturer-direct prices.  In 1968, they opened their first retail store at 32 Third Avenue in New York City. They then opened locations in Philadelphia, Boston, Chicago, Detroit, Washington DC, Berkeley, and San Francisco. By the time they sold their business in 1997, they had grown from a small space in Bush terminal to 50,000 square feet and an additional 50,000 square feet of retail space.
Mr. and Mrs. Harold and Josephine Gulamerian visited Armenia in 1998 at the invitation of Catholicos Karekin I. The Gulamerians were very moved by this visit, especially by the orphaned children they met. The Harold and Josephine Gulamerian Armenian Orphan Fund is dedicated to improving the lives of orphaned Armenians throughout the world.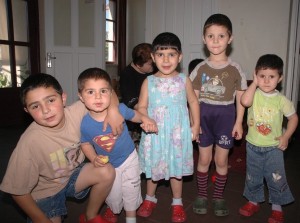 The Harold and Josephine Gulamerian Armenian Orphan Fund, through a cooperative agreement with the Society for Orphaned Armenian Relief (SOAR), provides support to the orphanages and orphan summer camps in Armenia, Artsakh, Javakh, Lebanon, and Syria.